Learn how 4MATIC all-wheel drive enhances the Mercedes-Benz experience
By Loeber Motors | Posted in Tips & Tricks on Sunday, December 28th, 2014 at 2:23 pm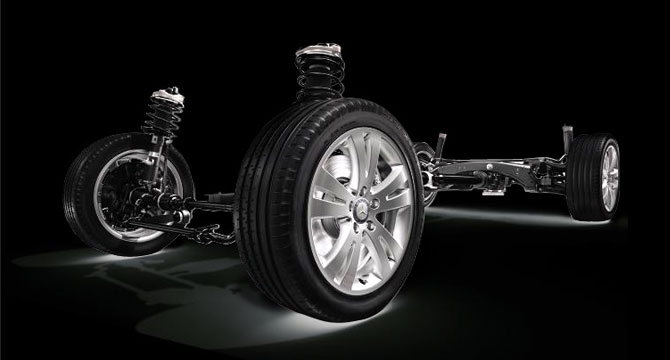 How does 4MATIC all-wheel drive work?
All-wheel drive has proved to be a great asset when it comes to winter driving and general vehicle performance. For Chicagoans, having a vehicle with all-wheel drive can truly help you navigate through challenging road conditions. While every automotive brand features vehicles with all-wheel drive throughout its lineup, Mercedes-Benz takes that to the next level with 4MATIC all-wheel drive. 4MATIC is much more than your conventional all-wheel drive system. To help you know exactly what your current or prospective Mercedes-Benz can do, we'll briefly answer the question "How does 4MATIC all-wheel drive work?" and give you an example of how it enhances your drive.
Like any all-wheel drive model, 4MATIC-equipped Mercedes-Benz vehicles engage all four wheels to provide optimal traction. In normal conditions, 4MATIC uses a center differential to provide superior handling and balance, providing unparalleled confidence behind the wheel. But 4MATIC utilizes a 4-wheel Electronic Traction System to take things a step further, by optimizing torque to each wheel based on conditions, your vehicle will have the best traction possible at all times.
For example, when one tire experiences wheel slip due to an ice patch or snow bank, the 4MATIC all-wheel drive system distributes more torque to the other three wheels to help grip and performance. This is especially useful on occasions where you find yourself stuck in the snow or on an icy portion of a driveway or parking lot.
Another benefit of 4MATIC is that its fully integrated with the drivetrain and the numerous active safety and driver assistance aids. That helps you, as the driver, to be aware of where wheel slip is occurring and when traction is low so you can alter your drive accordingly.
4MATIC all-wheel drive is available in a number of Mercedes-Benz models, including both the all-new Mercedes-Benz GLA-Class and C-Class.
Schedule a test drive in any 4MATIC all-wheel drive model at Loeber Motors and find out how the system helps enhance performance and inspire confidence in difficult driving conditions.
2 Responses to "Learn how 4MATIC all-wheel drive enhances the Mercedes-Benz experience"