Why do so many celebrities drive the Mercedes-Benz G-Class?
By Product Expert | Posted in For Fun, Mercedes-Benz G-Class on Thursday, May 14th, 2015 at 3:59 pm
As a society, we're captivated by celebrities and their possessions. From huge mansions to six-figure accessories, we tend to be fascinated by the lavish items of the rich and famous. Of all their six- and seven-figure belongings, we might be most fascinated with their cars. In a pocket of society where practicality is sparse, many celebrities, athletes and musicians aren't stingy when it comes to choosing their rides. If you skim through any celebrity car blog, you'll become pretty familiar with the Mercedes-Benz G-Class — a massive, off-road capable SUV with military origins that has been on sale in the US since the early 2000s. While the price tag on the G-Class makes it worthy of consideration for celebrities who must uphold a certain style of living, we'll explore why so many celebrities drive the Mercedes-Benz G-Class.
Read more about the upcoming 2016 Mercedes-Benz G-Class
Before we do that, the long list of celebrities who drive the Mercedes-Benz G-Class includes: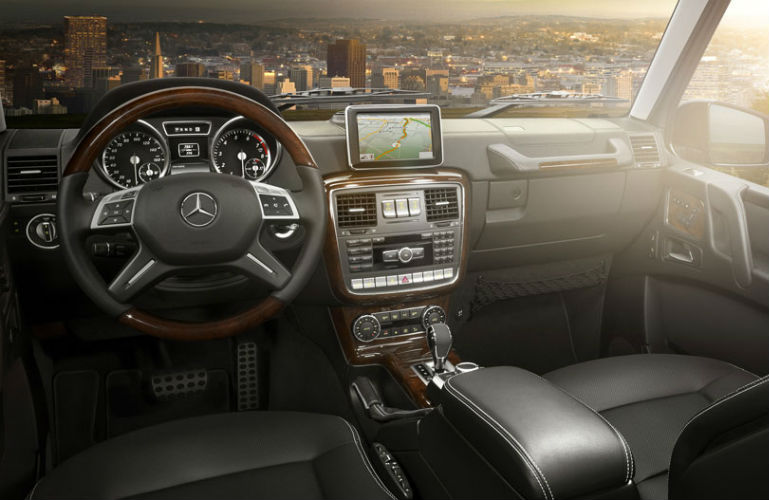 Sylvestor Stallone
Kylie Jenner
Britney Spears
Kim Kardashian
Iggy Azalea
Hilary Duff
Diane Keaton
Floyd Mayweather
Demar DeRozan (NBA player)
The list goes on and on. But why the obsession with the Mercedes-Benz G-Class? Let's explore.
It is unmistakable
While most celebrities aren't fans of paparazzi, they tend to enjoy being noticed in some capacity. The Mercedes-Benz G-Class is not only huge, it has unmistakable styling that would make any bystander take note. With its military-esque styling, sharp angles, front cage, and classic upright shape, the G-Class looks unlike any other vehicle on the road.
It is incredibly powerful
After achieving a certain level of notoriety, many famous athletes, musicians, and celebrities have influence and power. While an internal sense of power is intangible, the power generated by the Mercedes-Benz G63 AMG is easily felt. For 2015, the G63 returns 563 horsepower from its 5.5-liter biturbo V8 AMG engine, allowing the 5,622-pound vehicle to barrel from 0-60 mph in just 5.3 seconds.
The price is right
With fame comes vanity, and even if Kim Kardashian or Floyd Mayweather wanted to drive around in a sensible $17,000 compact car, it wouldn't necessarily fit their persona. The 2016 Mercedes-Benz G63 AMG starts at $137,000, and with plenty of optional features and accessory packages, there isn't much you can't have in the G-Class.
It's established as a vehicle for the famous
Since it debuted in America in 2002 and well before that overseas, wealthy, famous people have been driving the G-Class. Over the years, it has become a symbol of success, not only for celebrities, but for those who have achieved success in any industry.
Soon, we may see even more celebrities driving the Mercedes-Benz G-Class, as Mercedes-Benz recently announced a host of upgrades for the 2016 model year, including the new-to-America Mercedes-Benz G550 and AMG G65. The 2016 model also will be available in a number of new colors for 2016, which will help it further stand out among the crowd.
5 Responses to "Why do so many celebrities drive the Mercedes-Benz G-Class?"