What is the Top Speed of a Smart Car?
By Product Expert | Posted in smart, smart Fortwo on Friday, June 30th, 2017 at 6:55 pm
How Fast can a Smart Car Go?
When you're driving through the city of Chicago, there's a good chance that you'll come across a few smart cars on your journey. That's because city drivers know that the practicality of the smart car has no equal when it comes to saving space and money. It's small size makes it easy to maneuver and its efficient engine offers a surprisingly quick performance, allowing the smart car to offer a pretty impressive top speed.
Your first impression of the 2017 smart fortwo may be that there's no way that it can get over 60 miles an hour, but this is far from the truth! While it may not be built for speed like a certain sports car, this impressive little subcompact care comes equipped with a 3-cylinder turbocharged engine that's more than highway-ready.
Putting forth 89 horsepower and 100 lb-ft of torque, drivers can harness some pretty impressive power from the smart fortwo coupe. Drivers of the 2017 smart fortwo coupe can reach a top speed of 96 mph. Additionally, they can go from 0-60 miles per hour in just 10.1 seconds.
Get the 2017 smart fortwo in Chicago, IL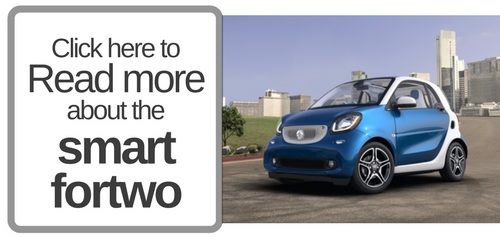 If you're interested in getting behind the wheel of the 2017 smart fortwo in the Chicago area, you've come to the right place. Here at Loeber Motors, we have a selection of new smart cars available for you to choose from, just take a minute to browse our inventory!
From there, just give us a call or schedule an appointment online and we'll be happy to set you up with a test drive. That way, you can experience the impressive drive and speed capabilities of the smart fortwo for yourself before making a final decision. We look forward to hearing from you.